Does your home a have special color scheme that a custom exterior window color would complement? Would a wood grain finish complement a particular room in your home? Do you have a unique colonial grid pattern that you would like to preserve while upgrading your windows? Window Source Virginia offers you a wide range of choices.
We have many color options to match your home.
Window Source Virginia offers many different exterior window color choices to perfectly accent the unique color scheme of your home. Ask your sales consultant to show you actual color chips of our many options. You'll love the way your home looks.

At Window Source Virginia we have several color combinations and wood grain finishes for you to choose from, so you can coordinate with and enhance the beauty of your home.
Custom exterior capping comes standard in white, beige or bronze; and we also offer custom capping colors to match your home.
You may choose from many colonial grid options.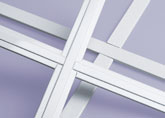 There are many colonial grid options, either contoured or flat, in a variety of different patterns. All grids are integrated inside the insulated glass unit so they'll never require cleaning or maintenance. All grids are also available in two-tone to coordinate with any available color combination. And external simulated divided lights are available.