Is your finished basement area heated and cooled? If so, our basement hopper is made specifically to address your needs and keep your basement at the desired temperature you are seeking for comfort…
What is a basement hopper window?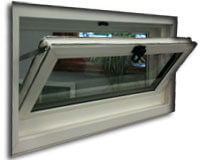 A basement hopper window opens inward from the top of the sash on a horizontal axis. By opening inward to ventilate, the opened sash does not interfere with the window well. This basement window can be made to fit the short height requirement found in many basement window openings. When closed and locked, it forms a tight seal to resist water penetration.
Window Source of Virginia offers a hopper window specifically designed to fit your needs and to help keep your living area insulated for comfort, while saving on energy costs.
Basement Hopper Features
Multi-chambered 3 1/4 inch vinyl frames
Fusion-welded sashes and mainframes
Tilts in for ventilation and cleaning
Sash can also be removed for full ventilation or pass-through
Heavy duty stainless steel, free-floating, concealed pivot arm
Pull handle lock for security and positive seal
Extruded aluminum screen rail
Full fiberglass screen included
Double insulated glass
Meets Energy Star requirements with LowE/Argon glass optional upgrade
Warm edge spacer system