What is a bay window?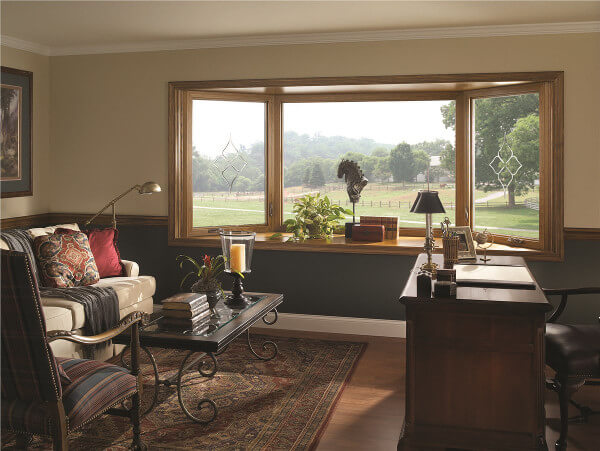 A bay window projects out from the wall of the house and contains three window units. The middle unit is parallel with the wall, and most customers choose a picture window selection. The ventilating units of double hung or casement windows are typically selected for the adjacent side units.
What is a bow window?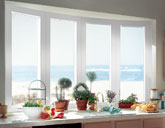 A bow window also projects outward from the wall of the house. The difference from the bay window is the bow contains between three and six window units all equal in size. And although each window is straight, the bow unit will form a curve. Ventilating casement units are typically selected, with the option for operating or non-operating picture window units.
What is a good location for a bow or bay window?
Any picture window is a great location for your new bow or bay window. The new projecting unit is custom-made and will not require costly or time-consuming structural changes.  The new bow or bay will add dimension to the room and exterior of the home.  You will have the option to tie into an overhang or install with an optional roof assembly.  As well, any older bow or bay window would be a fitting location for replacement.
Bow and Bay Window Features:
Multi-chambered 3 1/4 inch vinyl window frames
Heavy duty solid wood buck frame with steel mullion rods securely supports entire bow or bay unit
Head and seat are 3/4 inch exterior grade plywood with birch veneer stainable finish
All trim and window stops are made with #1 clear white pine
Casements and picture windows are available with interior wood grain finish for a completely finished wood grain appearance
Frame accepts any combination of our standard picture and operation units
Structure supports spacious projection for visual depth and utility
Warm edge spacer system
Exterior vinyl cladding is completely maintenance free
Can be built into exterior soffit area for protection and a finished look
Optional shingle roof package
Insulated seat board
Meets Energy Star requirements with LowE/Argon glass optional upgrade